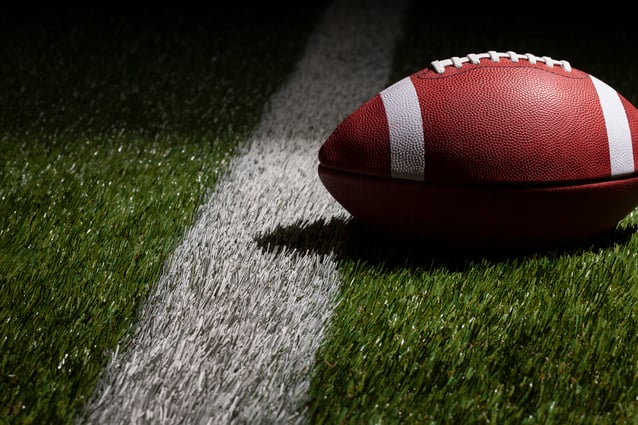 Alton Maiden played Defensive Tackle for The University of Notre Dame under legendary Coach Lou Holtz. In late October 1996, the Fighting Irish arrived in Dublin, Ireland to prepare for the first-ever Shamrock Classic – a November 2 football game between Notre Dame and the United States Naval Academy. During their time in Ireland, the team was able to do some sightseeing. One of their stops was a 12th century cemetery. Coach Holtz said, "All we saw were dilapidated walls and huge tombstones."
Holtz would soon learn that Maiden saw something very different. Maiden was so moved by the cemetery experience that he sat down in the midst of those dilapidated walls and huge tombstones and wrote a poem called "The Dash."

I've seen death staring me with my own eyes in a way many cannot know.
I've seen death take others, but still leave me here below.
I've heard many mothers' cries, but death has refused to hear.
In my life I have seen many faces filled with many, many tears.
After death has come and gone, a tombstone sits for many to see.
But it serves no more than as a symbol of a person's memory.
Under the person's name it reads the date of birth and the date the person passed.
But the more I think about the tombstone, the Important thing is the dash.
Yes I see the name of the person, but that I might forget.
I read the date of birth and death, but even that may not stick.
But thinking about the person, I can't help but remember the dash.
Because it represents a person's life, and that will always last.
So, when you begin to charter your life, make sure you're on a positive path.
Because people may forget your birth and death, but they will never forget your dash.

After learning of the poem, Holtz not only read it to the entire football team, he published it in his book, "Winning Every Day" and went on to recite it from memory during his many speaking engagements around the world.
What are you doing with the rest of your Dash?
There is an opportunity to connect purpose and meaning to each daily activity, and a choice to connect it. We have the freedom to choose our actions, our profession, our financial needs, and the path of our life. Each day is not about what we have to do. It's about what we get to do. Because, people may forget your birth and death, but they will never forget your Dash.
Clayton Christensen offers us some solid advice on our Dash. Christensen was an American academic and business consultant who developed the theory of "disruptive innovation." He was a Harvard Professor and author of several books, including the ground-breaking The Innovator's Dilemma.
Christensen wrote a 2010 article for The Harvard Business Review called "How Will You Measure Your Life?" that has become a HBR Classic. The article shares how he challenges his students each semester to take the management theories they learn in his class and apply them in answering three questions about themselves:
How can I be sure I will be happy in my career?
Christensen stresses that doing deals doesn't yield the same rewards as building up people. He teaches that management is the most noble of professions if it's practiced well, as no other profession offers as many ways to help others learn and grow, take responsibility, and be recognized for achievement.
How can I ensure my relationships with my spouse and my family become an enduring source of happiness?
Here the Professor encourages his students to create a strategy for their lives, drawing an analogy with how company strategy is defined and implemented. A company's strategy is defined by the types of initiatives it invests in. If those resource allocations and investments are not managed properly, the outcomes will be very different than those intended. No one leaves college planning to eventually get divorced or have strained/estranged family relationships, yet it is commonplace among Harvard alumni. He stresses to students the importance of keeping the purpose of their lives at the forefront as they decide how to spend their time, talents, and energy. It is those decisions that ultimately shape your life's strategy.
How can I be sure I'll stay out of jail?
Christensen asks this provocative question for a reason. Harvard has had it's share of alumni make poor decisions that led to jail - Enron's Jeff Skilling was Christensen's classmate. Perhaps a more tactful question would be, "How do I live a life of integrity?" Finance and economics courses teach that in evaluating alternative investments, we should ignore sunk and fixed costs and instead base these decisions on marginal costs and marginal revenues. This biases companies to leverage the past versus create the future, but the danger here is that the future is rarely the same as the past.
We unconsciously employ marginal cost thinking in our personal lives when we choose between right and wrong. A voice in our head says, "Look, I know, generally, most people shouldn't do this, but in this circumstance, just this once, it's OK." The perceived low marginal cost of doing something wrong "just this once" suckers you in, and you don't look at where that path is headed or at the ultimate cost of that choice. Justification for infidelity and dishonesty, in virtually all cases, lies in the marginal cost economics of "just this once."
Your Dash matters. Alton Maiden is a teacher in his hometown of Dallas, TX, focused on students with some of the greatest challenges facing adolescents today. Lou Holtz continues to inspire people all over the world, even though he is 85 years old. Christensen taught thousands of Harvard kids the importance of using the right yardstick to measure their lives. How about you? How will you live the rest of your Dash?
---
About The Garner Group
The Garner Group is the Consumer Health & Nutrition division of Sanford Rose Associates® focused on on senior leadership positions for the dietary supplement, functional food, beverage and ingredient, and AgTech sectors.

We provide direct executive recruitment services for pre-commercial, early-stage, and mid-sized privately owned, public, and PE or VC-backed organizations up to $300M in revenue. We are experts in securing senior management and executive talent for sales & marketing, general management, operations, product development, and scientific roles for innovators in the better-for-you food and nutrition sectors.

Finding People Who Make a Difference®
Executive Search Review has recognized the totality of the Sanford Rose Associates® network as being one of the Top 10 Search Firms in North America with 160+ offices worldwide. To learn more about how we can help curate an exceptional culture with exceptional people, please reach out to your Sanford Rose Associates® executive search consultant today. —Karen Schmidt