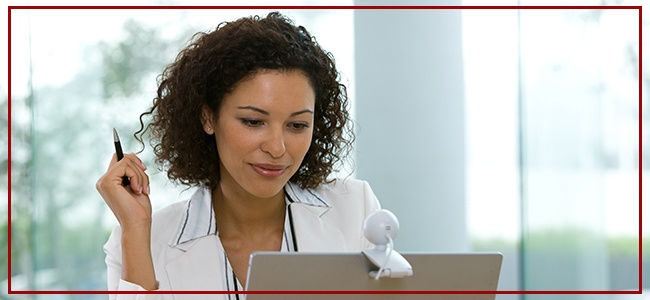 The internet has made it easier than ever to conduct interviews from across town or across the country. Video interviewing has both benefits and drawbacks, but if you choose to utilize video interviewing as part of your recruiting process
1. Prepare the Space
While a bright sunny window can be great for an in-person interview, it can create a distracting backlight. Before your first interview, set up the room with lighting that shows up well on camera and make sure the room is quiet and free from distractions.
2. Set Up Early
Speaking of setup, don't wait until the first interview time to figure out your set up. Give yourself plenty of time to figure out your technology, from lighting to volume to your internet connection. Remember that every interview is a reflection of you as much as the prospect, so you don't want to be fumbling around to get prepared.
3. Invest in the Right Equipment
Having the right equipment will go a long way towards helping you get everything setup right. If the video interview is a one-time accommodation, then a standard laptop with webcam should work fine. But if you will be conducting many interviews, you may want to invest in things like an external microphone to maximize quality.
4. Check Volume
One of the biggest issues with video interviewing is not being able to hear the other person. Do a soundcheck before the interview, perhaps with a colleague, to determine how loudly you have to speak in order to be heard clearly.
5. Remember they Can See You
When you're conducting a video interview, be sure to conduct the interview with the same professionalism as you would an in-person interview. That means your demeanor, face, and body language should have the same relaxed but professional appearance as it would if you were in the same room.
6.Consider Your Clothing
It should go without saying that you should dress professionally for a video interview where a candidate can see you, but there are some other considerations you might want to make as well. For instance, loud patterns and stripes can make a video feed distracting so it's best to opt for neutral colors and solids for the day of the interview.
7. Maintain Eye Contact
During a video conference, it can be challenging to maintain eye contact because it is tempting to look at your own video feed. Instead, look into the camera so that it gives the illusion of direct eye contact with the candidate.
8. Pay Attention to Body Language
Video interviewing can be more useful than phone interviews because you can get a sense of body language when candidates are addressing your questions unlike over the phone. Use posture, tone, and other body language indicators to get a better sense of who the candidate is.
9. Make a Recording
Making a recording of your video interviews make it easy to share great candidates with your colleagues or other team members and have them weigh in on the hiring process without having to be available at the time of the interview. If you record your video interviews, it is a good idea to get the candidate's permission beforehand.
10. Use it As a Screening Process
There are a lot of reasons that a candidate may present a perfect portrait of themselves in a video interview. It may be their computer or perhaps they just do not do well in front of a camera. That's why although there are many benefits to using a video interview, it is a good idea to use them sparingly as a screening process. Use these interviews to look for glaring red flags and get a broad overview of the candidate, but not as a deciding factor.