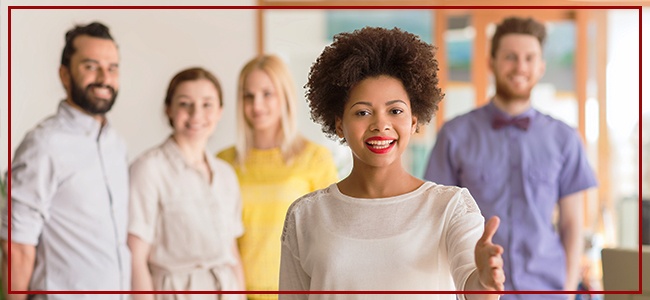 Work-life balance: the sought after and to some the laughable concept that we might balance work and our lifestyle, allowing time for ourselves. It's true, you're not the only person who struggles to maintain both your job and your family. While many individuals may feel just like a number or an overloaded workhorse in their CPG company, there are those who excel at creating employee happiness.
If you're between jobs or feel your current position does not provide the opportunities you need -- it's time to consider your other options. There are many consumer packaged goods companies, large and small who understand that work should be a place employees want to go every day. Read on to see where you need to begin networking and submitting your resume in order to be happy with your job.


Johnson & Johnson
Average starting salary: $70,000

You're probably familiar with this CPG company. Johnson & Johnson engages in product development, manufacturing, and the selling of personal care hygienic products, pharmaceuticals, and surgical equipment.

This company ensures employee happiness firstly due to job security and wage. The average salary at Johnson & Johnson is $70,000 a year according to Looksharp. This company has also made many Forbes lists for being the best employer, being a powerful brand, and for boasting a high market value.

Johnson & Johnson hosts a range of programs to encourage inclusion in their workforce and they offer many employee assistance programs to keep their talent in good health. More information can be found on their website of their practices to protect workers who come in contact with active pharmaceutical ingredients and other potentially hazardous materials. They strive to improve safety every day, so their employees are protected on the job.
General Mills
Average starting salary $48,568

General Mills is a poster child for typical CPG enterprises, with a great company culture and low employee turnover rates. They own brands such as Betty Crocker, Bisquick, Cheerios, and Yoplait yogurt. General Mills is committed to University Recruiting, helping to nurture the next generation of CPG professionals.

General Mills is a purpose-driven CPG organization that takes their role of nourishing communities very seriously and encourages corporate citizenship. Their company culture is contagious, and the career opportunities ensure long-term employment with them. Their products are found worldwide and their inclusive workforce compliments this distribution.
Procter & Gamble
Average starting salary $45,096

P&G might bring to mind everyday items like Tide, Old Spice, and Pampers. What sets this opportunity apart from others? There are ample chances for lateral movement within the company for someone who is determined and present. Their many happy workers thrive on the opportunities P&G provides for "climbing the ladder."

P&G offers a multitude of internships, co-ops, and development opportunities to help young workers get their foot in the door. They also offer work from home opportunities where possible and flexible scheduling. New hires enjoy vacation days, public and personal holidays along with wellness programs, tuition reimbursement, and retirement plans.
Kellogg's

Average starting salary $43,457

This is Michigan-based company is known for products such as Special K, Townhouse crackers, and Pop-Tarts. Kellogg's is well known for their dedication to employee programs and competitive benefits. The stability and brand awareness of this CPG organization lends to it being a top choice for employee happiness.

So, what else about Kellogg's fosters employee happiness? They have been named as one of the World's Most Ethical Companies eight times since 2007 by the Ethisphere Institute, for starters. They also have earned 100% on the Corporate Equality Index for five years in a row, a rating which addresses workplace equality and culture. Kellogg's was also named one of the top 50 Companies for Executive Women. All of this sounds impressive, but what it really adds up to is an inclusive company culture that allows employee happiness to flourish due to equal opportunity.


Coca-Cola

Average starting salary $39,552

Coca-Cola is a world recognized brand, so it should be no surprise that it makes our list of top CPG companies for employee happiness. Their brand awareness, global distribution, and commitment to their employees makes Coca-Cola a great CPG company.

Interns for Coca-Cola are involved in the essential functions and gain unparalleled work experience to propel them into their careers. Workers will experience the chance to make a difference, to grow professionally, be part of a diverse team, and be offered development programs. If all of this is not enticing enough, think about all of the free pop!
---

If you're in between jobs, or if you're an aspiring intern make sure you apply to companies with a solid track record of employee happiness. The competition is stiff, but with hard work and dedication, there are advancement opportunities in all five of these inclusive, engaging workplaces. It's time to dust off that resume and get out there, and now you have a perfect list to start with.