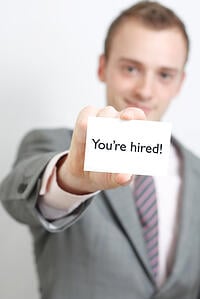 Once you have identified the right person for your executive opening, it's important to ensure you don't 'lose' them at the offer stage. Don't mistakenly think that because you're offering the position, you are in a stronger negotiating position. I have seen many employment negotiations fall apart due to a rigid stance on the employment offer. So, when it's time to talk executive compensation packages, make sure you first spend time talking to the person about his or her expectations. These are the five key elements of a good executive compensation package:
Base pay


Do your homework by talking to an

executive recruiter in your industry

and finding out what competitors similar in size to your company pay for the same position. Find out the expectations of the individual you're hiring before putting a number forward. Think about what your company can truly afford. Consider the open market value of the person's talent; if they are high profile in your industry, this will impact their expectations. Many companies include an annual cost-of-living adjustment as part of their base pay offer.

Benefits


Tailor the benefit section of your executive compensation packages to meet the needs of those you're hiring. For example, someone with a large family might prefer a robust health/dental/life insurance plan over extra vacation time. A younger executive might want a flexible health savings account and extra vacation time. Be open and flexible in structuring this area.

Short-term incentive compensation


This might be in the form of stock options or cash; in most executive compensation packages, it is linked to some short-term, measurable objective that can be attained within a one-year time frame. Make sure these objectives are reasonable, important to the company, measurable and time-constrained so there is no uncertainty on the part of the company, the executive or the board of directors as to whether the goals have been achieved.

Long-term incentive compensation


This is the most important part of executive compensation packages for most execs. Top executives look for a long-term compensation package that is generous and provides them with a powerful incentive to put in the long hours needed to make the company successful so they ultimately earn that long-term reward. For the company, this part of the compensation package should be structured as the "golden handcuff" to keep the executive from getting the itch to look elsewhere; a generous long-term incentive plan helps improve the chance for a stable and committed executive team. This compensation form is typically stock options with vesting requirements and/or performance objectives, or for private companies, the opportunity to earn an ownership position.

Executive perks


You have to be a little careful with this category, given the media's recent scrutiny over executive "sweeteners". However, these special incentives can be the difference-maker for an executive who's being pursued by multiple companies. Put on your creative thinking caps. What will be almost irresistible to this person? Maybe it's a premium country club membership, access to the company plane, or a Paris apartment. Whatever it is, including it in the offer sends the message that you understand the person's specific interests and have put a package together customized just for him or her. What executive wouldn't be flattered?
Superior executive compensation packages blend both the needs of the individual and the company. Can we help you with a new executive hire or answer questions about benchmarking compensation packages?
Contact us at Sanford Rose - we conduct searches for executives and senior management in the Consumer Health & Wellness Sector. Our clients are Food & Beverage, Dietary Supplements, Nutritional Ingredients and Health & Wellness companies.
What is your biggest challenge when putting together executive compensations packages?