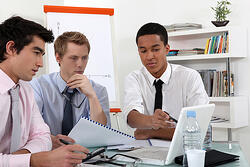 Recruiting regulatory affairs candidates that have the right mix of analytic and management skills is increasingly important in the natural health industry. The FDA is taking a more active role in dietary supplement oversight; greater attention to good manufacturing practices (GMPs) means more frequent FDA inspections. And as you know, new dietary ingredient (NDI) marketing is a key focus for the FDA as it more closely scrutinizes these products.
What this means for your company is this basic fact: finding outstanding regulatory affairs candidates helps ensure that your company stays in compliance with the federal government and has a proactive, long-term regulatory affairs strategy. In some ways, recruiting regulatory affairs candidates can be more difficult than recruiting other management positions because the skills needed are very specific and the talent pool is fairly narrow.
Consider these tips to help you find stellar candidates for your regulatory affairs slot:
1. Laserlike focus on critical skill set. Understand that we are now in a global competition for talent, and people qualified in the engineering and science fields are in especially high demand, due to their scarcity. And guess what? A degree and experience in chemistry, biology or other physical science fields is typically a key qualification for companies seeking a top-rate regulatory affairs manager. Since competition is fierce for this talent pool, you need to focus like a laser beam on what qualifications really count in your regulatory affairs candidate. What are the three or four essential duties for this position and what skills are critical to accomplishing them?
2. Global sourcing. As we said above, the world is a very flat place these days when it comes to doing business and to filling those businesses with qualified people. Top candidates are not necessarily locked into a specific geography, so your talent search shouldn't be either. Global sourcing requires a worldwide network of contacts and the ability to "reach out and touch" qualified contacts. A network that reaches to all corners of the world is a real asset when recruiting regulatory affairs candidates.
3. Company culture. It's critical that you and your job candidates understand your company culture so that the candidates will be a good "cultural fit." How would you describe your company culture? If you haven't given it much thought, then now's a good time to read up on the topic of company culture so you don't end up trying to put a "square peg" new hire in a "round hole" culture.
4. People description, not job description. Take a look at some of the online job descriptions for regulatory affairs managers. Unfortunately, too many of them read like a long (and tedious) laundry list of job functions, qualifications, education and experience. The human element is often missing from these descriptions. Take time to evaluate individuals who previously held the position and were successful. What knowledge, skills, experience, and personal characteristics made them a success? Here are four "people" descriptors to consider that we've blogged about in the past:
Attentiveness: Demonstrates an ability to focus and avoid distractions.
Emotional Intelligence: Able to identify, assess, and control the emotions of oneself, of others, and of groups.
Innovative: Envisions new ideas either in reality or conceptual.
Learner: Inherently seeks advanced skills, knowledge, or abilities.
Recruiting regulatory affairs candidates that are a good fit with your company's needs can be streamlined and accelerated with the right recruitment strategy. Sanford Rose Associates® is an executive search firm with a network of 65+ offices and over 100 search consultants in the Americas, Europe and Asia. With in depth regulatory recruitment experience for companies in the life and health sciences, we are experts in identifying and placing regulatory talent. Contact us if we can assist you in hiring key regulatory talent.
Sanford Rose Associates® - Beachwood conducts searches for companies in Food & Beverage, Dietary Supplements, Nutritional Ingredients and Health & Wellness sectors. We are part of Sanford Rose Associates®, an executive search firm with a network of 65+ offices and over 100 search consultants in the Americas, Europe and Asia. Founded in 1959, the Sanford Rose Associates Network has placed over 100,000 people and is the 11th largest search firm in the Americas.