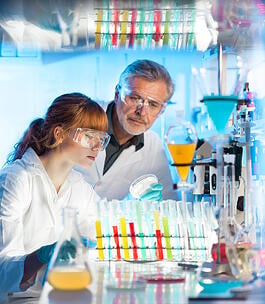 Hiring for top research and development positions is accelerating in the Consumer Health Products sector. Companies that reduced R&D staff to save costs during the economic downturn now realize the need to restore their R&D pipeline and develop new products. Recruiting top research and development talent is not as simple as it may seem, however, even though lots of people still need employment. Many executives are wary of making a job change, given the roller-coaster ride of the last five years. Companies seeking the most capable research and development managers need a smart recruitment plan to attract the right individual.
What makes an outstanding R&D manager? According to Dr. Robert Szakonyi, director of the Center on Business and Technology Strategy at Northwestern University, R&D managers must successfully execute 12 key activities, including selection and planning R&D projects; generating new ideas; motivating R&D staff and getting them to help commercialize technology; coordinating R&D and marketing; maintaining teamwork within senior management as it concerns technology issues. Excellent R&D managers need askill set that extends further than technical expertise – facility in communication, teamwork and collaboration is also essential.
When seeking to recruit research development leaders, here are six steps to improve your chances of landing that ideal candidate:
1. Understand your needs. According to experts in Consumer Health Products executive recruiting, a lack of clarity on what your company needs in a new hire is the root cause of many failed searches or bad hiring decisions. Sure, needs and requirements sometimes shift during the course of an executive search, but unless you and your colleagues define and agree on what kind of person the company seeks, chances of success diminish.
2. Understand your company culture. Much has been written on the subject of cultural fit, but we can't stress enough how important it is, especially for top-level management slots. There are many horror stories out there about companies that bring in an executive who looks perfect on paper, only to find that he or she is a miserable fit with the company's cultural norms and expectations. What kind of company are you and how does this translate into your recruitment strategy?
3. Create an irresistible pitch. If you want to recruit research development leaders, provide exciting incentives (not just financial) so that good candidates will willingly leave an existing job for your opportunity. Do you have cool new products or ideas in the pipeline? How might the new executive put her stamp on the organization?
4. Streamline the recruitment process. Recent reports conclude that the time from first interviews to job offer acceptance is becoming longer and longer. You improve your chances of landing that awesome R&D exec if you think about not only your needs, but his as well. Make the interview process as efficient as possible and don't leave top-tier research and development candidates hanging for long periods of time without hearing from you. That's a great way to lose great people and gain a bad industry reputation.
5. Think globally. When you seek to recruit research development management, look to countries outside the U.S. For example, India is a rich source of highly-skilled technical talent. Don't know how to tap into these global talent pools? Then maybe you need step number six.
6. Partner with a recruitment professional. Finding people who make a difference requires a responsive, professional and ethical partner with an in-depth knowledge of your industry. Seek out such a firm and you greatly improve your chances of landing the ideal R&D candidate. Sanford Rose Associates has over 50 years of Finding People Who Make a Difference. Through our consultants in 65 offices around the world, we have placed over 100,000 professionals. Contact us today to learn more.
What are your current R&D recruitment challenges?