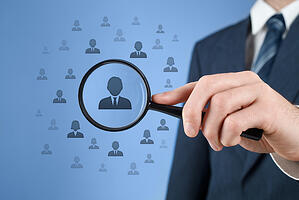 Top-notch sales executives are always in demand; that's because the best ones bring a dynamic and contagious leadership style to their team, inspiring them to beat revenue targets; further, they collaborate effectively with other executives to develop and execute company strategies. Because these skills are always in demand and often not easy to find, you need a competitive edge when searching for a health industry sales executive. Many employers in your industry have chosen to utilize a sales executive recruiter so they find the most qualified candidates. What attributes and skills should you look for in a sales executive recruiter?
1. Specialist in your industry. Ever try to explain your business to someone who knows nothing about it? It can be very frustrating. Imagine that same exasperating conversation with a recruiter who knows nothing about your industry or company; you must educate him on the market, competitors, business challenges, regulatory issues, key mergers and acquisitions, etc. Your better move is to seek out a recruiter who's focused on your niche industry, because such specialization improves the quality and speed of candidate placement.
2. Excellence in candidate screening. First-class executive recruiters are experts at candidate screening, so you don't waste time talking to the wrong people. Clients learn to lean on their sales executive recruiter when evaluating candidates; they ask them to find out more about certain gaps or questions in a candidate's job history, or to check items in their background that the client can't readily find out.
3. Access to the best talent. A good recruiter specializing in your niche market can locate hidden talent for you to consider, for example, a top-rate sales exec that you thought was perfectly content at their current position. The recruitment firm puts great effort into developing and updating a comprehensive database of qualified candidates. Part of their job is to develop personal relationships with people in your industry, so they can pick up the phone when your position becomes available. While many top candidates won't read your job posting online or in the newspaper (because they're employed and busy), they will listen to a well-respected recruiter who contacts them about your job opening.
4. Impeccable ethics. Employers often need to conduct a confidential job search and it's therefore essential that the executive recruiter they work with is trustworthy. Look for a recruiter with long-term connections in your industry and a reputation for honesty, integrity, reliability and adherence to industry codes of conduct.
5. Defined process. Good recruiters know that the best way to rapidly fill your position is to develop and execute a clear strategic hiring plan. A multi-dimensional search process that links expectations, company culture, chemistry, technical fit and experiential translation delivers superior results, more rapidly.
Need to identify, entice and hire a top-notch sales executive? Partner with an executive recruitment firm dedicated to finding that one person who will make a difference for your organization. How can we help your executive search process?