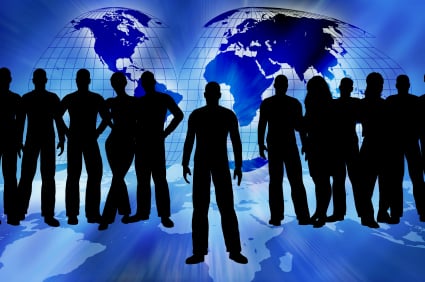 It's a fact that other countries want U.S. dietary supplement products, and that foreign countries – especially China and the Middle East - and the companies based there want into the U.S. market. The dietary supplements market showed strong growth in most areas of the globe and that's impacting international sales recruiting, as well as increasing other hiring opportunities.
The global growth and need for talent is a reflection of the overall growth of the dietary supplement industry. Sales and business development positions are highly recruited right now, but so too are key positions in regulatory, quality and operations. That's because companies are expanding facilities and increasing production all around the globe to meet the demands of a growing global population – which passed 7 billion in October 2011- and the increased interest among the middle class in many emerging countries for healthful supplements to add to their daily diet.
Here's a roundup of some key trends in the 2011 global supplement industry:
· Global demand for vitamins and dietary supplements are steadily growing, with sales reaching an estimated $84.26 billion in 2011, up 6.1 percent from the prior year. This is the biggest one-year jump in the last five years and is a positive harbinger of things to come.
· Western Europe is a tough place to do business these days, given the plunging economies of several key countries – and the heavy-handed, complex and uncertain regulatory climate found across this area.
· Latin America is emerging as the newest and favorite target of opportunity and Brazil is driving that train. The beauty industry in Brazil isn't just about cosmetics and skin care anymore – increasingly the idea of "beauty-from-within" is taking hold and driving supplement sales upward. Furthermore, Brazil's regulatory environment has become friendlier for companies in the supplements industry, leading to growth in demand for regulatory staff, as well as more international sales recruiting activity. Outside of Brazil, countries such as Paraguay, Peru and Columbia are starting to show increased activity in the supplements sector.
· China supported 2011 supplement sales of $10.67 billion, up a significant 11 percent from 2010 totals. The country is in third place with a nearly 13 percent market share overall, and is expected to top Japan in the number two spot by 2013. There are 1.34 billion Chinese citizens and they are increasingly coming to understand the concept of self-health through supplementation; further the country's growing middle class has more disposable income and they like to buy products perceived as "modern" as opposed to "traditional or old-Chinese" health supplements.
· The United States remains the number one market for dietary supplements, with a 26 percent global share at $22 billion in 2011. However, the market is slowing slightly, largely due to an increasingly tight regulatory environment. The FDA's increasingly active role in supplement oversight through GMPs, as well as uncertainty about the New Dietary Ingredient (NDI) guidelines is impacting the industry in multiple ways.
In this increasingly flat world, global competition for consumers is heating up. So too is recruitment for top talent to help meet the demand for more and better dietary supplements. International sales recruiting is one of our strengths, as is recruiting for regulatory, quality and business development professionals who can grow your company's sales in all corners of the world. How can our recruitment expertise help your company tap into the growing global market?