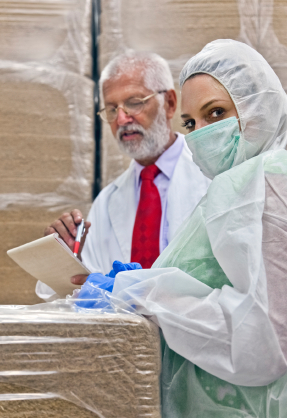 When it comes to regulatory compliance within the natural health industry, the best defense is a good offense. Whether you're in the nutraceutical, dietary supplement, food ingredient, organic foods or OTC segment of the food industry, you know that regulatory issues are increasingly important. That's because there's more scrutiny than ever by a variety of agencies and certification groups. Excellent regulatory compliance requires a qualified regulatory manager.
Let's briefly review two of the most important regulatory groups for the natural products:
GMP
Good Manufacturing Practices are used to define the proper manufacturing processes, which are documented and used to train employees on the production procedures. The FDA establishes cGMPs (the "c" prefix means current) for foods. The agency will take action against unsafe dietary supplement products after they reach the market. Further, the FDA's Final Rule 21 CFR 111 requires that, "all domestic and foreign companies that manufacture, package, label or hold dietary supplement, including those involved with testing, quality control, and dietary supplement distribution in the U.S., must comply with the Dietary Supplement Current Good Manufacturing Practices for quality control." The agency is serious about enforcement; as of April 2012, it had sent warning letters to ten manufacturers and distributors of dietary supplements containingDMAA for marketing products that had not been submitted to the FDA for safety evidence review.
Make no mistake about it. New dietary ingredients (NDI) marketing is a big focus of the FDA. Regulatory compliance within your organization is critical.
NSF
The FDA doesn't directly certify companies, so third party groups instead provide certifications of safety and quality. One of the most desirable certifications is that of the NSF. NSF International (formerly called the National Sanitation Foundation) is an independent agency that plays a critical role in food safety. Among other responsibilities, it regulates the use of non-food compounds such as plastics and soaps in food processing plants.
Why You Need a Qualified Regulatory Manager
A regulatory manager is charged with a broad range of responsibilities:
· Ensuring that their organization and its personnel are and stay compliant with all the key regulations and laws governing food and food ingredients;
· Staying on top of new laws and regulations as well as state and federal legislation that might impact compliance policies within the natural products industry;
· Coordinating business compliance systems, which link up business and legislative rules with company policies and processes. There are software programs available that a top quality regulatory manager will employ to help manage this sometimes complex responsibility;
· Leveraging best practices and tools used by other companies to improve upon existing compliance programs;
· Embedding compliance into your natural products business so it's not just a written policy document, but rather an integrated part of workflow and operating rules.
As you can see, a highly qualified regulatory manager can make all the difference in ensuring that your organization has the skill-set and proper tools to stay ahead of regulatory scrutiny. We routinely recruit top level regulatory management for our client base around the world and we can put our expertise to work for you as well, so your company can locate and attract the best available talent. How good is your regulatory compliance program?