The Nutrition and Natural Products division of Sanford Rose Associates provides executive search and recruitment solutions for companies in the Consumer Health & Wellness sector. We work large multi-national companies, midsize firms as well as early stage start-ups.
We are pleased to announce the completion of three searches: Eastern Regional Sales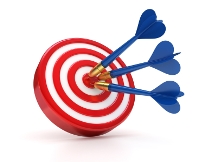 Manager, Western Regional Sales Manager and Manager of Direct Marketing. The project took exactly five weeks from start to finish.
Our client, a producer and marketer of a proprietary line of dietary supplements, requested our assistance in identifying and hiring two sales and one marketing professional with experience in the natural products industry. Cultural fit and industry experience were essential to these hires.
We embarked on the project in mid-December networking with regional sales and marketing professionals in the Southeastern and Southwestern United States. We were able to identify several candidates for each role. Phone, face-to-face and Skype video interviews followed. The chosen candidates started work in the fourth week of January.
Our client was delighted with the success of our search. We look forward to their explosive growth and continued success!