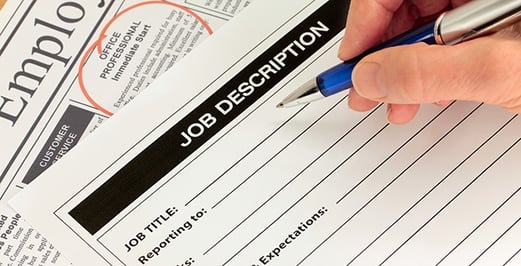 What is the one thing that I tell my clients they must do before writing a job description? Define the Role by crafting a Position Success Profile. While a traditional job description outlines the responsibilities and requirements, a clearly defined Position Success Profile can:
Align the company, department and individual goals
Create a roadmap for the hiring process
Outline goals and expectations of performance objectives
Attract the best candidates to the job – not just the ones who are actively looking
Qualify and assess the candidate's prior experience
Manage ongoing performance of new employee
A Position Success Profile is created by gathering the hiring team and answering the following questions.
Step 1 – Outline Goals
1. What are the company goals over the next 12-18 months.
2. What are the specific department goals over the next 12-18 months? (i.e. The sales department will increase sales revenue by X % in across each channel.)
3. What will the new employee need to achieve to help meet department and company goal(s)?
Step 2 – Identify Challenges
What challenges will the employee face to reaching the individual/department goals? (i.e. business conditions, issues, relationships, problems, etc. that will challenge this individual or department)
Step 3 – Outline Tasks and Activities
What are the specific action steps/activities that will be required to overcome challenges and reach goals?
Step 4 – Define Results/ Success
What are quantifiable and time based outcomes (performance metrics) that indicate whether the employee has met the position goals?
After answering the questions in each of the steps, you and your hiring team will well on your way to crafting a Position Success Profile that will attract, assess and hire the best candidate for your open position.
To learn more about crafting a Position Success Profile, contact Sanford Rose Associates - Beachwood.