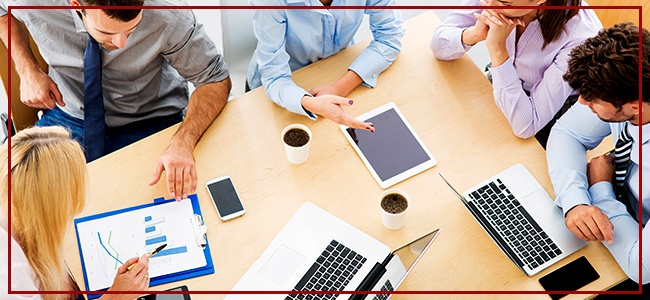 Finding and retaining top talent is the best way to grow your business. When your teams are full of hard-working, motivated people who collaborate well and bring the right skills to the table, everything will start to run more smoothly.
But how can you ensure that your talent pool isn't slowing draining or evaporating before your eyes? Following are ten ways to start filling your talent pipeline and making sure it stays full.
Look at the Big Picture
When it comes to finding the right talent, it is tempting to let a resume and experience be the end all and be all of your candidates. But if you can look at your company's longer term strategy - in terms of talent and skills needed to reach your business objectives, you will hire better candidates that will stick around longer. That means instead of trying to fill an open role with someone exactly like the person that just left, thinking about what your company will need in that position over time. Every industry and organization is dynamic. Adopt a talent acquisition strategy and look towards your company's future needs to find the candidates that make the most sense now and going forward.
Get Creative
If you want to fill your talent pool and keep it full, your job descriptions should be better than a copy and paste of last time. Make sure to make your job profiles creative, descriptive and intriguing. While a compelling job description is only one of many ways you will attract talent, it is often a primary method potential job candidates will use to evaluate the opportunity. Remember that the best candidates will have a choice of positions. Be sure you show them why yours is the most interesting.
Prioritize Personalization
As you upgrade your job descriptions and interview process, you will want to invest energy in personalizing the hiring process too. After all, identifying the right talent is only the first step. Make sure to customize all job offers. Use what you have learned about them during the interview process. Whether that means using language that appeals to their values or reiterating the responsibilities and tasks that piqued their interest the most.
Dip Into the Deep End
Posting open positions and reaching out to top executive recruiters is key when it comes to filling your talent pool. However, don't forget about those contacts that you may have spoken to in the past. It's possible that a top recruit has applied for another position that didn't end up working out. Make sure you or someone on your team reviews resumes on file, Perhaps a candidate who applied for a role a year ago may be the perfect fit for a position today.
Bring New Hires On Board the Right Way
Just as a job offer can be customized to your new hire, so can your training and onboarding process. You want your new hires to be excited about their job from day one, which means not sitting them down at a desk with a binder full of rules and regulations. Make sure their onboarding process is interactive and determined by the talent's preferences, interests, and learning style. You'll get a more productive team member right off the bat.
Management Counts
As a hiring manager or recruiter, your job is not necessarily done the minute a new recruit signs on the offer letter. It is also critical to keep that employee happy, which usually falls under the purview of his or her manager. Take a moment to consider whether every manager in your organization is fully supported in his or her efforts to keep new hires engaged and happy. Those that aren't may benefit from mentorship or leadership training to foster a positive environment for incoming talent.
Consider a Recruiter on Retainer
Having top executive recruiters on retainer can be the key ingredient to keeping your talent pool stocked. Not only do recruiters have access to top talent including passive job seekers, but they can also help to determine the most important qualities for your company and always be on the lookout for a good fit.

Do you have a difficult position to fill?
Sanford Rose Associates® Beachwood focuses on finding talent in the Consumer Health & Nutrition sectors. We work with companies in the Dietary Supplement, Nutraceutical, Nutritional Ingredient, Functional Food, and Sports Nutrition. If you have a difficult position to fill, you can learn about our recruitment capabilities by visiting www.srexecutivesearch.com/about-us.
.