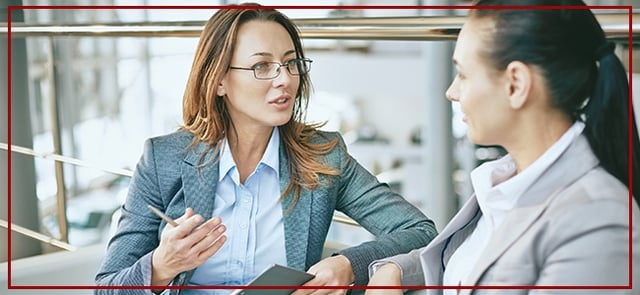 Developing a corporate mentoring program is not only good for corporate morale and employee retention, but it can also be an important recruiting tool. High potential employees are likely to be attracted to the idea of mentorship that fosters a strong connection between higher level executives and new leaders, ultimately building towards better outcomes both mentor and mentee. Many businesses already know this since more than 70% of Fortune 500 companies have mentorship programs in place, but if your company doesn't it may be time to start one.


Following are a few well-known corporate mentorship programs that might be inspirational for your efforts.
Morgan Stanley
Morgan Stanley put a mentorship program in place specifically with the goal of retaining women in sales roles. The bank's leadership wanted to stem the high turnover rates in the sales department and encourage women to engage and grow within the company. Barbara Adolph, the executive in charge of the program, began by seeking input from a range of different departments to get a clear picture of what made for a good Morgan Stanley employee and what curriculum the new program should follow. The result of programs like this is the development of a culture that practices what it preaches regarding diversity. With 63% of women having never had a mentor, a program like this one can be a major selling point for recruiters.
General Electric
General Electric's Experienced Commercial Leadership Program is designed to mentor new graduates in the areas of marketing and sales. The two-year program provides mentorship and training in sales skills and like many mentorship programs is designed to train and encourage a new generation of leaders. A rotational structure means that each mentee can learn in at least three different positions over the course of the two years. Following the conclusion of the program, graduates are in a position to take on leadership roles in their chosen business sector.
Intel
The mentorship program at technology giant Intel is quite a bit different than traditional programs. Intel has taken the traditional idea of mentoring and turned it into a more agile process with a very specific goal of transferring skills between employees, regardless of their job title or experience level. Instead of matching high-level executives with newer hired, people are matched based on their strengths, to transfer knowledge efficiently. Originally developed to train inexperienced managers quickly; the program now uses its matchmaking software to train a range of different employees by matching them directly with someone who knows what they need to know
DHL Express
Shipping giant DHL Express developed a corporate mentorship policy in 2011 with the goal of developing high potential employees by offering individual coaching and support from managers. The program carefully chose both mentors that were eager to develop new talent and mentees that had a clear picture of what they wanted their career to look like. One of the best features of this program is that it is entirely voluntary, meaning that all participants are completely invested in the outcome.


Corporate mentorship programs can take many different shapes, as clearly evidenced by those explored here. A mentorship program can attract high potential employees, retain diverse talent, and create a culture and business environment that is overall more attractive and better regarded.