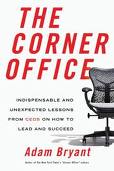 As an executive recruiter, I am always studying the actions, habits and patterns of top performers in the workplace. I am always asking myself, What qualities distinguish performers? How do you identify and validate high potential employees? A recent article from the New York Times caught my eye.
IMAGINE 100 people working at a large company. They're all middle managers, around 35 years old. They're all smart. All collegial. All hard-working. They all have positive attitudes. They're all good communicators.
So what will determine who gets the next promotion, and the one after that? Which of them, when the time comes, will get that corner office?
In other words, what does it take to lead an organization — whether it's a sports team, a nonprofit, a start-up or a multinational corporation? What are the X factors?
According to this article, the five qualities that distiguish your high potential employees from the crowd are:
Passionate curiosity
Battle-hardened confidence
Team smarts
A simple mind-set
Fearlessness
Wanting to know more, I recently purchased Adam Bryant's book, The Corner Office: Indispensable and Unexpected Lessons From CEOs on How to Lead and Succeed.
What other qualities are key to identifying potential top-performing talent? Let me know what you think.
Link to orginal NY Times article.
Related Articles:
10 Ways to Recruit Talent to Your Organization