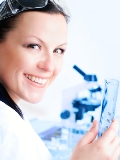 Sanford Rose Associates - Beachwood is conducting a search for a Director of Research and Development (R&D) for a contract manufacturing firm in the mid-western United States.
This role will be responsible for planning, controlling and coordinating the entire range of research and development activities while overseeing a team of scientists and technicians working to develop formulations for effervescent tablets and powders.
The position requires a solid understanding of tablet processes, Standard Operating Procedures (SOPs) for dietary supplements, pharmaceuticals, cGMPs and product validation.
The ideal candidate will have:
Bachelor's degree in Chemistry or related science.
10+ years experience in product development in dietary supplements or pharmaceuticals.
10+ years experience with various dosage forms including numerous types of tablets, powders, coatings and liquids or gels. Effervescent experience a plus.
Please contact Ginni Garner @ ggarner@srexecutivesearch.com or 440-893-9408 ext. 103 to learn more or apply for this position.
_________________________________________________
Sanford Rose Associates® - Beachwood is an executive search firm focused on recruitment for companies in the Nutrition, Natural Products and Healthy Living Industries.